Hello everyone!
(RED) Staffers Angela, Morgan and Hallie went to the Presidential Inauguration in DC last week and wanted to share some of the experience.
Early last Sunday, we left New York to go to DC in time for HBO's "We Are One" concert spectacle. The city was abuzz as we walked with hundreds of people down to the Lincoln Memorial to catch the show.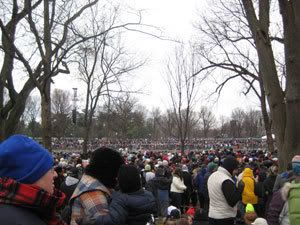 There were celebrities, both actors and musicians who were there to narrate, and it was a concert filled with so much passion and hope you could feel it all the way to the back of the Washington monument. We watched great performances from many artists including (RED)'s co-founder Bono.
Inauguration Day came and we headed to the National Mall to witness history. We were up at 4:30am, and in place by 5:45am. Many others were ahead of us but we still scored a great spot on the lawn - close to one of the first jumbotrons by the Capitol Building, where Barack Obama would be taking the oath of President.
We thought we had come prepared for the cold, unrecognizable behind our heavy layers, but somehow our toes still froze! We passed the time before the inauguration dancing in place, crying out loud, turning our desperation into any form of comedy we could – our laughs kept us energized.
But the feeling was great, and the mood unparalleled. Just to stand amongst the masses who, like us, just wanted to bear witness to this event, to experience it live, in person and as real as it could be – it was amazing and unprecedented. It was truly extraordinary to see so many people from all different walks of life, joyous with the possibilities of our revived country. We were happy to be a part of it.
After we returned back from D.C., we began to think about what this transition of power would mean for (RED)'s cause to help eliminate AIDS in Africa. Regardless of what side of the political aisle you stand on, it's quite amazing to think about the progress America has made in its commitment in combating HIV/AIDS, due largely to former President Bush's initiative, The U.S. President's Emergency Plan for AIDS Relief (or PEPFAR). It has been in progress since only 2003, but has already provided $18.8 Billion dollars towards HIV/AIDS funding—the largest health initiative dedicated to a single disease.
While PEPFAR has made some great headway, there is still much that needs to be done. The Obama administration made commitments throughout the campaign that would help to improve millions of lives across Africa including increased access to water, education, and building health infrastructure. President Obama also committed to fully funding PEPFAR.
This past July, PEPFAR was extended for 5 more years, and the U.S. has pledged to increase funding to $48 billion. President Obama is a co-sponsor of this bill, which included that during this fragile economic climate our government will be able to part with so much money, but the message, as the torch is passed from the Bush to Obama administrations, is that – like (RED) – America's commitment to fight HIV/AIDS remains strong.
Overall, the last week has given us a lot to look forward to. With (RED) having reached $120 million in generated dollars to the Global Fund, and with the start of a brand new administration aligned with (RED)'s goals, it makes us incredibly proud to be an American and part of (RED)!